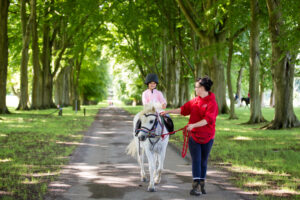 Pony Hire
This is a real treat for any young horse riding enthusiast. Hire a pony for 1 hour to explore the woodland trails and fields around the estate, located near Bath, Wiltshire, accompanied by a responsible, confident adult/family member from the same house hold to lead them. This is a non-supervised activity to a set route accompanied by one parent/adult per child. Please fill out the pony hire risk assessment form to book.
Full payment is required at the time of booking which is non-refundable, subject to availability at the time of booking.
Available from the age of 3 years up to 12 years.
£150 per child for 1 hour.
£15 equipment hire.
BOOKING POLICIES & INFORMATION