How did you get into hospitality?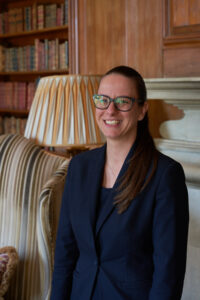 Since I was little, I've been staying in hotels with my family, and I was always fascinated by the buzz and interested in what is going on behind the scenes. For me it was clear from the get-go, this is the career I wish to pursue.
What is your favourite dish and cocktail on the menu?
The Superfood Salad on the Brasserie menu and the Thai Green Stormy cocktail from the main bar.
What is your top tip on what to do whilst staying at Lucknam Park?
Grab a bicycle, a map and explore our beautiful estate on wheels. Discover our gardens, meet our four-legged friends at the equestrian estate and around the property. If you have time, stop for a picnic at one of our picnic spots.
What is your favourite thing about working at Lucknam Park?
Definitely the amazing team and the beautiful, relaxing location.
What is your favourite spot at Lucknam Park?
There are many, but probably the Walled Gardens.
Best thing to do or see in the local area?
I always recommend going to Bath to see the Roman Baths or visit Castle Combe.
How do you spend your time when you're not at Lucknam Park?
I enjoy meeting up with my friends, travelling and visiting the gym.